INTRODUCTION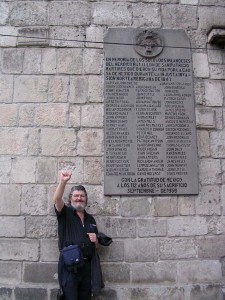 Visitors and readers of this website will discern that my interests lie in the contemporary development of public art and social/political art in both practice and education; in practice, in terms of my own work and that of other artists; in education, in terms of how those practices can be taught in art schools; in particular my experiences working on the Art and Social Contexts course at Dartington College of Arts and then as founding Head of the Environmental Art course at Glasgow School of Art.
Articles Essays Lectures
Writing has not been my profession but over the years I have been moved to write when I felt something was important to me.  At other times I have been asked to do so by editors of books, newspapers, magazines, etc. This is a selection of writings some of which, in the process of publishing, had to be cut and amended.  These appear here in the original version. I have resisted the temptation to revise them and have limited myself to the odd correction.  Of course rereading them one can be embarrassed by what one has written years before.  However, as they stand, they reflect the views and thoughts that seemed to me right at the time.
_____________________________________________
Notes
Essays marked with an asterisk are unpublished.
The essay Art in Social Contexts is included by courtesy of the author Chris Crickmay.  I taught with Chris on this course for eight years.
The Public Art Index is an annotated bibliography of magazine and newspaper articles on the subject.  A more detailed introduction to it will be found if you click on to it.